Latest News
05-06-2018: CIGRE UK's June Technical Webinar will be presented by Martin Judd on the topic "Transformer monitoring and defect location using UHF PD sensors." This free Webinar begins at 12:30 BST on Wednesday June 13 - please register at Eventbrite to take part.
06-02-2018: HFDE's founder Martin Judd is serving as Guest Editor for a Special Issue of MDPI's open-access journal Sensors. The topic will be UHF and RF Sensor Technology for Partial Discharge Detection and the deadline for manuscript submissions is 31 December 2018. If you are working in this field, please consider the information and call for papers here – your relevant contributions are most welcome.
11-01-2018: Dr Martin Judd of HFDE will be keynote speaker when the 53rd International Universities Power Engineering Conference returns to Glasgow in September 2018, when it will be hosted by Glasgow Caledonian University.
04-11-2017: We will be presenting at Euro TechCon 2017 on the topic of "Condition Monitoring Facilities for Transformers". The paper has been jointly authored with Ian Hunter, Technical Director of Polaris Diagnostics, one of the UK's leading authorities on power transformers. Euro TechCon is returning to Glasgow this year - the venue is conveniently just a few miles from the HFDE office.
25-10-2017: A very productive meeting of CIGRE Joint Working Group A2/D1.51, "Improvement to Partial Discharge Measurements for Factory and Site Acceptance Tests of Power Transformers" in Budapest. We are close to standardising requirements for calibration of UHF sensors using a GTEM cell to measure either "effective height" or "antenna factor." The frequency range for PD detection in transformers is being narrowed down and there is general agreement on the minimum required level of sensor response that is necessary.
06-12-2016: HFDE is pleased to be among the sponsors of UHVnet 2017, "Challenges and opportunities in HV future networks," to be hosted by Glasgow Caledonian University on 19 Jan 2017. This Colloquium provides an ideal platform for postgraduate students and early career researchers or engineers to present their work to others within the UK's high voltage engineering community.
05-12-2016: Thanks to TJ|H2b Analytical Services for another engaging Euro TechCon held in Bristol last week, with the theme "Primary Asset Life Management". HFDE presented a paper on the Role of Condition Monitoring in Asset Management of HV Electrical Equipment. The presentation gave an overview of some topics on which HFDE can provide in-depth Continuing Professional Development training in collaboration with the University of Strathclyde, which is particularly suitable for graduate engineers and those new to the industry.
05-09-2016: An interesting meeting today with Dr Hans Schantz of Q-Track Corporation about his interpretation of 'Energy Flow in Reactive Fields,' appropriately held at the James Clerk Maxwell Foundation, 14 India Street, Edinburgh – the birthplace and childhood home of Maxwell himself. Fascinating to be reminded of some of the fundamental philosophical issues that still remain concerning the radiation of electromagnetic waves.
25-08-2016: HFDE was involved in the Paris meeting of CIGRE Joint Working Group A2/D1.51, "Improvement to Partial Discharge Measurements for Factory and Site Acceptance Tests of Power Transformers." Calibration of UHF sensors using GTEM cells was discussed, together with the more challenging problem of performing a sensitivity check on the installed UHF PD detection system before it is applied in support of FAT/SAT tests.
03-05-2016: The 44th Glasgow Company of the Boys' Brigade, sponsored by High Frequency Diagnostics, won their playoff match on Saturday to claim the league trophy for the second year running. Well done boys!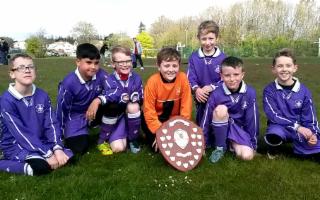 24-09-2015: High Frequency Diagnostics and Polaris Diagnostics have formed an Alliance to Provide Specialist Investigation Services for Power Transformers with Partial Discharge & Discharge Conditions. Click here for details.
23-09-2015: High Frequency Diagnostics is proud to support The Maxwell at Glenlair Trust, which was established to conserve and preserve for the benefit of the public Glenlair House, the family home of James Clerk Maxwell.
01-10-2014: High Frequency Diagnostics opens for business.